Case Study - Search Engine Optimization (SEO) - Online Cab Services
The client company was founded in 1989 in the US, and has built a reputation as a leader within the transportation industry. The company arranges transportation for its clients, providing the best possible service at the most competitive price. The company offers a wide range of transportation to suit various needs of clients. The fleet of new model vehicles is meticulously maintained and operated by courteous and professional drivers trained in the art of customer satisfaction.
Problems
The client wanted its website,www.federallimo.com to gain popularity, as most consumers book online cabs or cars. The client wanted to achieve a top spot in Google, Bing and Yahoo. The challenge was to list and achieve top ranking with their most popular keywords. Important Keyword/ Keyword Phrases, Title Tag, Description Tag and Meta Tags were missing.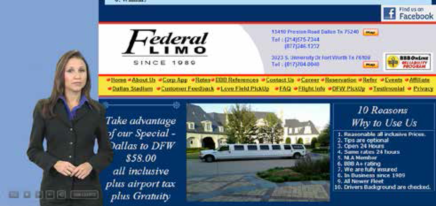 Methodologies
DART designed a comprehensive organic search marketing, Search Engine Optimization (SEO) program for the client website. The DART team did a complete analysis of the website both from the crawlers as well as visitors point of view. Thereafter, the team determined all the important keywords. DART decided to put a marquee with important keywords & key phrases of the site on all the important pages, as the team at DART felt that the website required keywords rich content.
DART performed on-page optimization focusing on client keywords and achieved the desired result in two months time.
Results
The website now appears on the top page in Google search on typing the keywords, "dfw limo"; as shown below. Other keywords like "Limousine Dallas", "Airport pickup dfw", "Transportation to dfw", and "Limo dfw" also yield top searched results.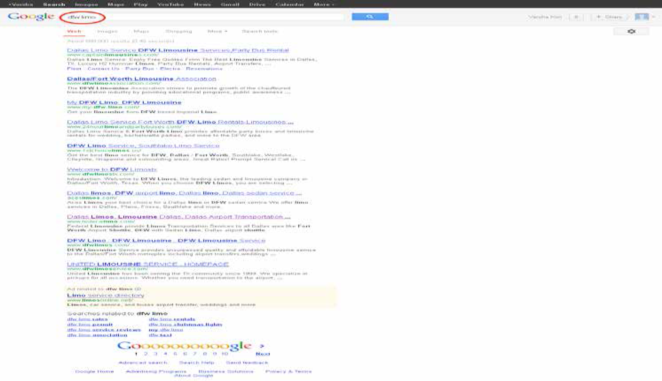 DART's SEO Services
DART offers unique keyword research, optimization of keywords, landing page optimization, content improvement, and anchor text suggestions as part of SEO. Further, our Analysts create search engine friendly URLs, Google XML sitemap creation, image & hyperlink optimization, W3C validation etc. as part of SEO. Overall, DART Analysts ensure a satisfied customer at the end of the engagement.