Case Study - Search Engine Optimization (SEO) - Fire Protection Systems
Southern California's leading Fire Protection Contractor specializing in the installation, maintenance, inspection, and repair of fire sprinkler systems, for both residential and for commercial projects. The client approached DART seeking help in optimizing their website. Established more than a century ago, the company has well trained staff. They possess the latest information on relevant codes, legislative requirements and on the Los Angeles fire sprinkler industry developments.
Problems
Though the client has a presence of more than a100 years in the market, it had very little presence on the web. The client wanted to take its website, www.americanfireinc.com, to the next level and through its web presence, wanted to reach more clients. The client wanted to hire a team of experts that could help his company gain greater visibility on the web while using ethical methods to achieve this goal. It was then that the Company zeroed in on DART as its complete solution provider. The objective was to gain prominent positions on Google, Bing and Yahoo searches. The client wanted to achieve increased traffic flow to their website with the use of generic keywords.

Methodologies
DART designed and implemented a themed optimization strategy for the homepage and main services. Thereafter, our SEO Analysts created keyword-rich content for their website. The site content was re-written and added additional pages. The errors as found in the sites were corrected and performed on-page SEO. Blogging was done on a periodical basis to let the potential users know about the latest in the Fire Protection industry. Further, themed hyperlinks were added to the sites to improve site ranking. The navigation structure was re-done and this allowed all previously hard-to-reach internal pages to be more accessible to the search engines and, more importantly to the end-user.
Results
The website now appears on the top page in Google search on typing the keywords, "Fire Sprinkler Los Angeles"; as shown below. Other keywords like "Fire Sprinkler Repair Los Angeles", and "Fire Sprinklers Los Angeles", also yield top searched results. The client reported higher organic traffic within a short period, resulting in increased topline.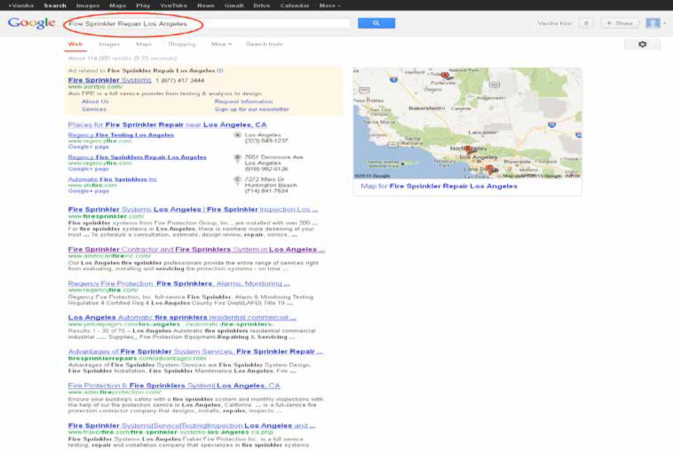 DART's SEO Services
DART adopts ethical cost effective SEO techniques. DART's SEO services include 45 processes that include unique competitor analysis, keyword research, optimization of keywords, landing page optimization and content improvement. The SEO team always gets updated with the latest algorithm changes as done by Search Engines to keep the client's website higher in search results.